Complete Lost Hearts Series Published in eBook
BODYGUARD PROTECTS REPORTER FROM STALKER!
MINISTER'S MYSTERY KILLER APPREHENDED!
LONG-LOST SIBLINGS REUNITED!
 You've been asking for the truth about the Prescotts. What really happened to the minister and his wife? Who is the villain behind the
children's separation? When would the siblings be reunited? The questions are answered in CLOSE TO YOU, the third and final book in the Lost Hearts series, out today for Kindle, Nook, Kobo, and iBook. Read an excerpt:
     Teague looked across the formally decorated ballroom at Kate, elegant in her ankle-length red shantung silk sheath and strappy gold sandals.
    She seemed to feel his gaze on her. She turned away from her conversation, and she met his eyes. Her lashes drooped. She smiled with such implicit invitation, Teague took a step before he realized it.
    But no. She was on a date with a lawyer, a proper man who fit into her social class. Teague was nothing but her bodyguard. He needed to remember where he came from. What he'd done. The gray shadows of the past started to envelop him, and for the first time in his life, he encouraged them… In his mind, his mother's voice started: Goddamn it, Teague, you little bastard…
    Then Kate did something Teague never could have anticipated. She slid her palm down her hip, smoothing the red silk until the thin material was taut against her skin.     Heat flashed through him, burning all the old memories away.
     Kate looked…it looked as if…but no. That was impossible. She would never do as he had demanded. She would never leave off her thong.
     If she did, she would sure as hell never tell him in the middle of a party when he could do nothing about it. That would be too cruel a revenge for his ultimatum.
    Her eyelids fluttered up; she looked at him with the sultry invitation of a temptress. And she mouthed: No panties.
   This time nothing could keep him from her side. Date or no date, Teague did not leave her alone for the remainder of the long, boring evening.
As with JUST THE WAY YOU ARE and ALMOST LIKE BEING IN LOVE, this edition of CLOSE TO YOU includes 32 manuscript pages of bonus material: how I got the idea for the Lost Hearts series, the synopsis that sold CLOSE TO YOU and first draft chapters. Publisher's Weekly gave CLOSE TO YOU my first starred review (they define a starred review as "a book of outstanding quality") and said, "Bestseller Dodd delivers a high-octane, blow-out finale to her series chronicling the adventures and reunions of the Prescott sisters . . . a delicious concoction readers will be hard-pressed not to consume in one gulp." So enjoy CLOSE TO YOU and all the Lost Hearts books for your Kindle, Nook, Kobo, and iBook!
And now there's an addition to the Lost Hearts series — GABRIEL'S GIFT: An All-New Lost Hearts Christmas Story! This 10,500 word heartwarming epilogue is available for 99 cents for Kindle, Nook, Kobo and iBooks
Don't forget, not everyone gets my newsletter, so pass this letter on to your friends who read so they'll know that all three of the Lost Hearts series, JUST THE WAY YOU ARE, ALMOST LIKE BEING IN LOVE and CLOSE TO YOU are now in e-book with bonus material!
Warmly,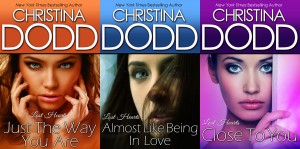 Christina Dodd
New York Times Bestselling Author
The best way to forget all your troubles is to wear tight shoes.