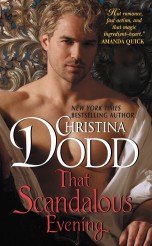 New York Times bestseller Christina Dodd brings you brings you her wittiest Regency tale of propriety lost…and love won…in this prequel to her famed Governess Brides Series!
A Disastrous Season…A simple statue began the scandal.
A Lady Concealed…An innocent English miss conceived of it, her hands gliding across the clay, delineating each smoothly defined muscle and sinew, creating a sculpture of the man she worshipped. When the likeness was exposed along with Miss Jane Higgenbothem's secret tendre for Lord Blackburn, the ton's amusement sent Jane away in disgrace.
A Gentleman Revealed…Now, a decade later, Jane is back in London as chaperone to her beautiful niece. But to Blackburn, Jane's unwitting model, the cool spinster is still a challenge. She once made the arrogant rake a laughingstock: so why is he tempted to revive an affair that began so long ago, on THAT SCANDALOUS EVENING?
Get THAT SCANDALOUS EVENING from your local bookseller or order it from Amazon, Barnes and Noble or Books-a-Million. In eBook: Kindle, Nook, iBooks, Kobo