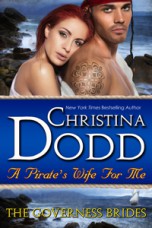 At long last, New York Times bestselling author Christina Dodd brings you the historical romance you've been waiting for, the all-new, full-length Governess Brides historical…
Caitlin MacLeod of Scotland is proud to announce her graduation from The Distinguished Academy of Governesses. She specializes in the womanly arts of housekeeping, picking locks, and overthrowing ruthless dictators, and is looking for a position wherein she can utilize these skills. No dashing, dastardly pirates or faithless, former lovers need seek her services.
Ship's captain (and prince in disguise) Taran Tamson is by coincidence in need of the best lockpick in the land; he needs the reckless auburn-haired beauty to retrieve the papers that will help him leave behind his swashbuckling ways and win his island kingdom of Cenorina. He assures said lady that he will honor her demand for a proper, chaste relationship for as long as she desires it, then use his every sensual wile to make sure she desires only one thing — him…
Order now for the special pre-order price of $4.99! Kindle and iBook
Do you read on Kobo and Nook? A PIRATE'S WIFE FOR ME will be available in both those venues, but not yet—they don't allow pre-orders.
A PIRATE'S WIFE FOR ME will also be available in paperback.
For updates, join my mailing list (your email in the box to the right)!