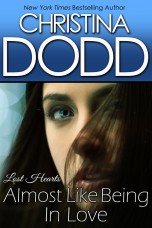 ALMOST LIKE BEING IN LOVE, second in Christina Dodd's New York Times bestselling romantic suspense series, Lost Hearts…

Witness to a brutal murder, Pepper Prescott flees a killer, leaving her home, her business, and the identity she's spent years cultivating. She runs to the only place she's ever felt safe—the small mountain town of Diamond, Idaho, where she had met the boy who captured her heart, and taught her body to love……only to be forced to leave him without a backward glance.
The moment she sees Dan Graham, sweet passion flares again. But Dan's service in the Special Forces has left him wounded, body and soul, and harboring a dangerous secret that could get them both killed. Can they learn to trust—and love—before murder and treachery finds them?
Buy ALMOST LIKE BEING IN LOVE Lost Hearts #2 with three bonus chapters of never-before-seen material for Nook, Kindle, Kobo and iTunes!