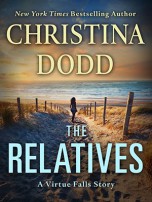 New York Times Bestseller Christina Dodd brings you an all-new e-short story in her acclaimed Virtue Falls suspense series with…
THE RELATIVES!
What would you do when uninvited relatives drop by your home and stay … and stay … and stay?
Arriving April 7, 2015 for Kindle, Nook,  Kobo, GooglePlay, iTunes. Watch out.