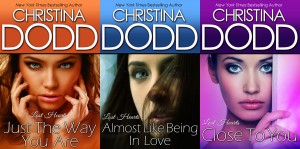 — In 2014, Christina and her publisher, St. Martins Press, launched her all-new suspense series, Virtue Falls, with a short story THE LISTENER and a full-length novel, VIRTUE FALLS. The books proved so popular, they are releasing another Virtue Falls short story in the spring, tentatively titled THE RELATIVES, and in September, the second Virtue Falls full-length novel.
— The Lost Hearts series has been re-released in ebook with new covers and bonus material.
— Christina is working a full-length original historical for her beloved series, The Governess Brides. She hopes to publish Caitlin MacLean's story, A LADY'S GUIDE TO MARRYING A PIRATE PRINCE, in late 2014. Join Christina's mailing list to keep up with every new release!