— All new and out now! GABRIEL'S GIFT, a heartwarming Christmas story for readers of the Lost Hearts and Fortune Hunter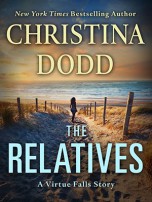 series. Get it now! The Lost Hearts series is now in ebook with new covers and bonus material.
— New and upcoming! In 2014, my publisher, St. Martins Press, launched her all-new suspense series, Virtue Falls, with a short story THE LISTENER and a full-length novel, VIRTUE FALLS. The books proved so popular, they are releasing another Virtue Falls short story in spring 2015, titled THE RELATIVES, and in September, 2015 the second Virtue Falls full-length novel.
— Upcoming! Christina is finishing up a full-length original Governess Brides historical! She has been looking for the right title. Her mailing list has voted on the four finalists, and she'll notify them of the results on Friday December 19th. Join and be the first in the know!