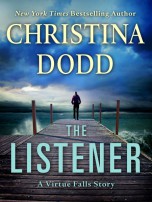 On July 1, New York Times Bestseller Christina Dodd kicks off her new suspense series with THE LISTENER.
Virtue Falls misfit and computer security expert Cornelia Markum hacks into a text conversation between unidentified Virtue Falls residents … and realizes she's stumbled into a murder plot. 
A Virtue Falls e-short story. Pre-order now!